---

Gakken Pocket Miku NSX-39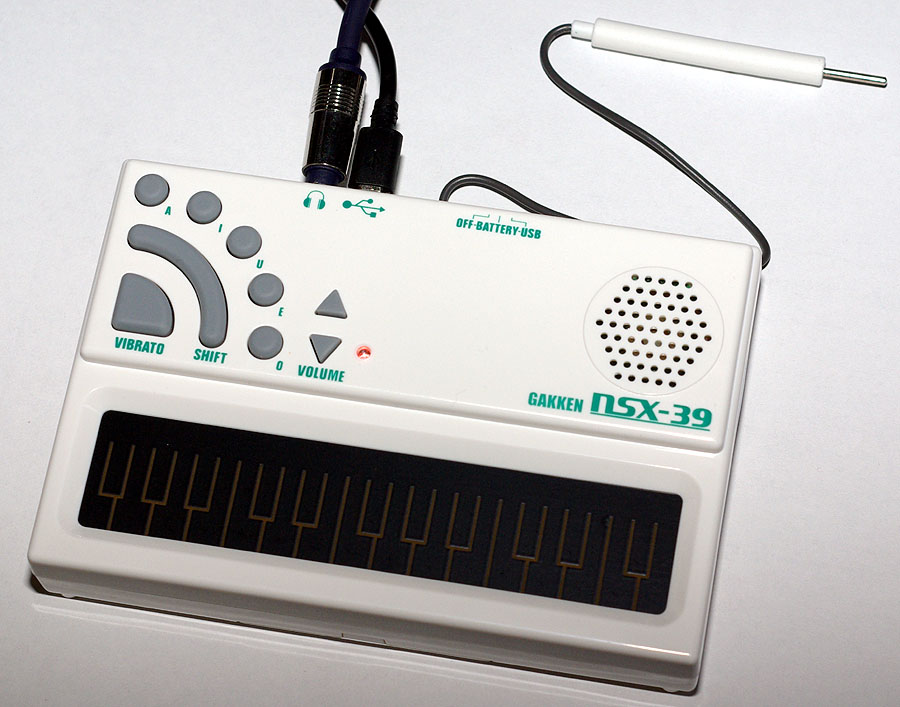 "Gakken Pocket Miku NSX-39" is a digital synthesizer released in 2014 by Gakken Education Publishing(a member of Gakken Group, now Gakken Plus). The MSRP was 4980 yen plus sales tax. The formal Name is "Singing Keyboard Pocket Miku". Many call the synth "Pokemiku". Pokemiku includes Yamaha's eVocaloid LSI "NSX-1" and voice data of Miku Hatsune by Crypton Future Media. It enables realtime monophonic vocal play. It has 3 modes, "Doremi", "AIUEO" and "Preset" mode. In AIUEO mode, you can choose one from "A", "I", "U", "E" and "O". In preset mode, you can choose one from 5 preset Japanese lyrics. Also you can use "Lylic Input App". System Exclusive also be available to choose a voice for lylics. Pokemiku includes polyphonic multi-timbral synthesizer compatible with General MIDI specification.
Pokemiku does not have any MIDI connectors. It works with 3 AAA batteries. You can play with touching keyboard with electronic pen(stylus). It has a speaker inside. Also stereo headphone(line) output. Pokemiku has a USB connector in order to connect with PC or Mac. PC can feed electric power through USB cable. PC can control Pokemiku as a MIDI device. Channel 1 is for Vocaloid Miku, channel 2 is for GM soundset. If you connect your musical keyboard with the PC, you can play Pokemiku with your keyboard. The photo below is a package of Pokemiku.
Information
Sound
Sound
Comment

"O" realtime play

I connected Yamaha MONTAGE6 and Pokemiku to my PC. Montage 6 key send MIDI data to Pokemiku immediately. Realtime play is available. I chose "O" and added reverb with external effector. The voice is monophonic. Legato play adds portamento. Modulation wheel adds vibrato. CC(Control Change)#7 and CC#11 change the loudness. Velocity is valid, too.

Preset lyrics "Choucho" realtime play

We can choose a lyric from 5 preset lyrics. This old song about butterflies is popular for Japanese kids. I used pitch bender.
General MIDI #1 Acoustic Piano

We can use multi-timberal General MIDI sound source with MIDI channnel 2. This sound is GM#1 Acoustic Piano.

"Kaeru no gasshou" realtime play

I input lyrics of "Kaeru no gasshou", songs for flogs. The song came from Germany. The German title is "Froschgesang".

I used modulation wheel for vibrato. I did ritardando. Realtime play of Vocaloid is amazing. With usual Vocaloid software, I should use PC to make vocal track first. After put the vocal into mucic sequence software project. Pokemiku is a real hardware synthesizer.

"Kaeru no gasshou" by System Exclusive Programming

Without realtime control, System Exclusive(Sysx) data can set the lyrics. The image below is MIDI data list includes notes and Sysx datas.

Red lines are Sysx. During playing note, Sysx can be sent. This program has no vibrato.

"Kaeru no gasshou" perpetual canon with 2 Pokemikus

I put the data above to two tracks of music sequencer. After a little adjusting, I sent datas to two Pokemikus.



Pokemiku starting sound

One more extra. You can hear "Pokemiku!".
---
Mail to Webmaster
Webmaster information
©Hideo Harada 2010-2021 updated on 2021/09/15 08:50:22