---

Wardolf Streichfett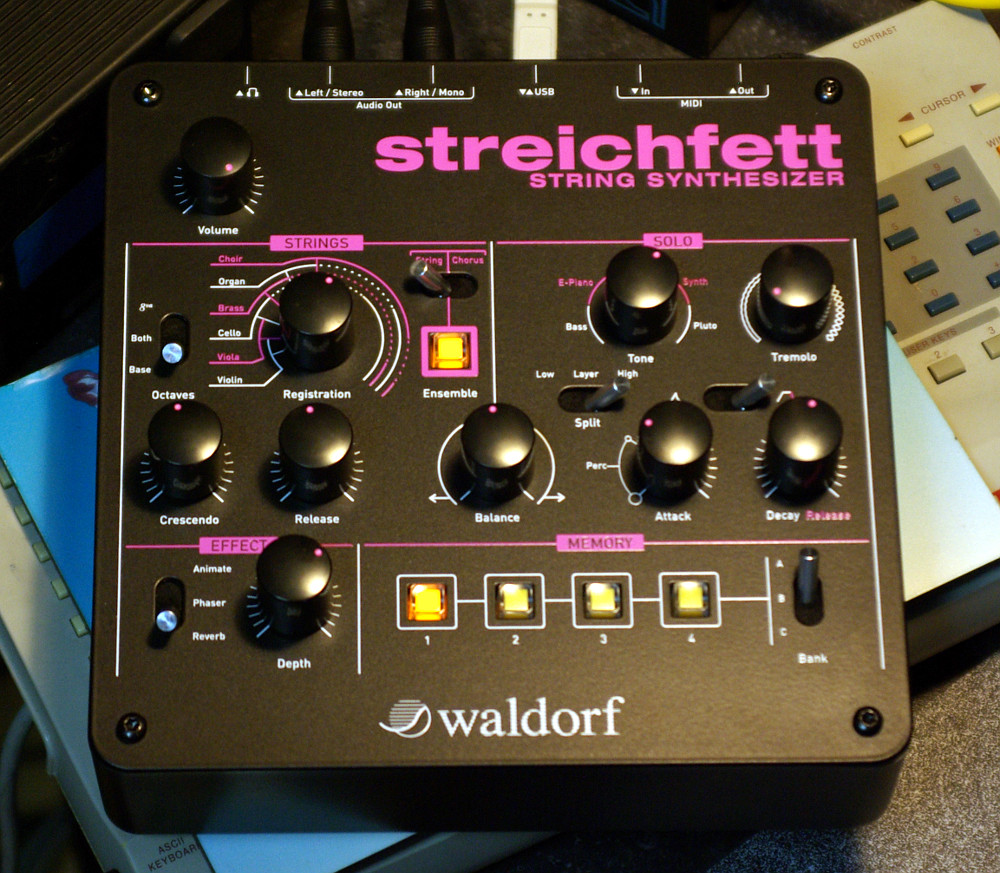 Waldorf releasd Streichfett strings synthesizer in 2014. The small box and affordable price are unique. It has 128 voice polyphinic "STRINGS" section and 8 voice polyphonic "SOLO" section. STRINGS has 3 effects. Ensemble(strings ensemble/chorus), phaser, and "Animate". Animate modulates wave select knob called "Registration". SOLO sections has tremolo. Reverb are there for entire output. Pitch bending, modulation(cc#1), volume(cc#7) are valid and smooth. I think Streichfett is a good polyphonic synthesizer. Although I wish cutoff and resonance, that's crying for the moon. I should try Rocket's filter.
Information
Sound: Index
Sound: Factory Presets
Streichfett has twelve memories for sound store. I played 12 factory presets below. I do not know the intensions of sounds, so, my play might be inappropriate.
| Sound | Comment |
| --- | --- |
| Preset A1 | "Shwaaaaa" strings. I am not sure old strings machines sound like this. |
| Preset A2 | Piano or bell like sounds and strings. |
| Preset A3 | Percussive. I tried bass. |
| Preset A4 | Pipe organ image. |
| Preset B1 | Sounds like former preset. Stronger attack. |
| Preset B2 | Layerd, chorused sound. Good. |
| Preset B3 | Guitar like sound. Beautiful. |
| Preset B4 | Rotating. |
| Preset C1 | Good human voice. |
| Preset C2 | Attack has good taste. |
| Preset C3 | Percussive tone and rotating strings. Not bad. |
| Preset C4 | I agree it is a good sound. |
Sound: Original(experimental)
I tried to learn. On the way.
| Sound | Comment |
| --- | --- |
| Split experiment | I tried keyboard split. |
| Synth Lead by STRINGS section's pulse | I got pulse wave with minimize "Registration" pod at STRINGS section. No ensemble, no animate, no phaser. A little bit reverb. Modulation wheel adds vibrato beautifully. I feel sympathy with the synth designer. |
| Synth Lead by SOLO section's saw | I adjusted "Tone" pod near "E.Piano", searched soft wave. The wave may be saw or narrow pulse. Envelope mode is AR(Attatk/Release). Small amount of reverb. Nice vibrato. |
| Synth Piano by SOLO section | Envelope mode is AD(Attack/Decay). Attack knob is around eleven o'clock. Not velocity sensitive. Do not expect too much, please. |
---
Mail to Webmaster
Webmaster information
©Hideo Harada 2010-2021 updated on 2021/07/29 20:27:36