---

Yamaha MOTIF-RACK ES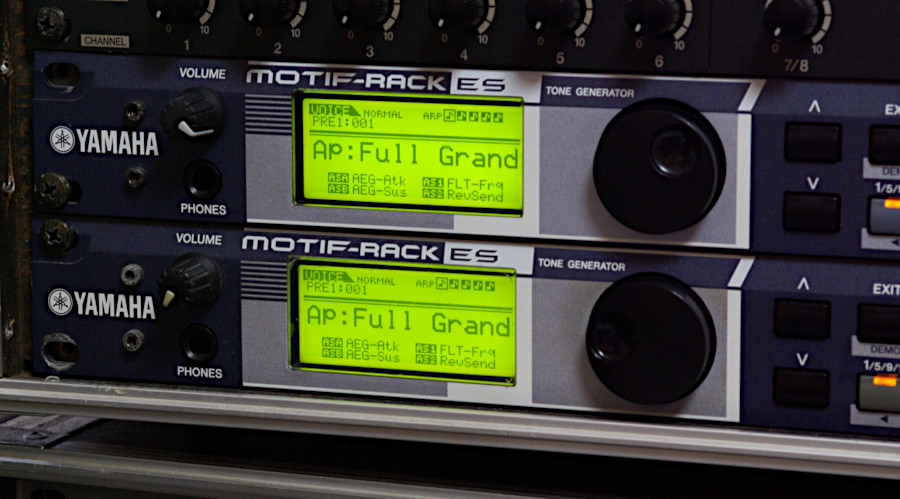 "MOTIF-RACK ES" is a synthesizer module released by Yamaha in December 2004. The MSRP is 135000 yen(not including sales tax). The body is slim 1U. It has same PCM sounds as MOTIF ES keyboards. MOTIF-RACK ES has 2 plugin slots for plugin board "PLG series". I tried analog-modeling "PLG150-AN", DX7 compatible FM "PLG150-DX", physical modeling "PLG150-VL", PCM piano(including electric pianos) "PLG150-PF" and PCM acoustic piano "PCM150-AP". MOTIF-RACK ES has digital autio output, S/PDIF optical and coaxial. We can digitally output PLG150 sounds. MOTIF-RACK ES has small but high resolution LCD. We can fully edit the AWM sounds. If you want to fully edit the plug-in board sounds, you should use some application software on PC.
MOTIF-RACK ES's predecessor is "MOTIF-RACK". MOTIF-RACK was released in January, 2003. The MSRP was 125000 yen. MOTIF-RACK is compatible with MOTIF keyboard synthesizers. MOTIF-RACK ES is not upper compatible with MOTIF-RACK. MOTIF released in August 2001, it took long time to see MOTIF-RACK in January 2003. Maximum polyphony is 64 with MOTIF, 128 in MOTIF-RACK. MOTIF-RACK also has updated effects compared with MOTIF. MOTIF-RACK and MOTIF-RACK ES share many features. But some differences you should know. MOTIF-RACK ES has "Performance Mode" and auto loading of plugin datas. They do not exist in MOTIF-RACK.
The successor of MOTIF-RACK ES is "MOTIF-RACK XS", released in June 2008 with MSRP 160000 yen. MOTIF-RACK XS is not upper compatible with MOTIF-RACK ES. Though MOTIF-RACK XS has been sold in long period, I found "Discontinued" mark in January 2019. MOTIF-RACK XS has no slot for plugin boards, has no user interface for full editing the PCM sounds. The goods point of MOTIF-RACK XS are 8 elements in one voice(doubled from MOTIF-RACK ES) and four rotary encoders for instant editing.
In 1980s Japan, DTM(DeskTop Music) sound modules were sold dramatically. Roland Sound Canvas (SC series) and Yamaha MU series competed very hard. Now, we do not have SC and MU. Roland's last PCM sound module was INTEGRA-7. Yamaha's last module was MOTIF-RACK XS. In future, we may use keyboards like Yamaha MONTAGE. I hope new multi-timbral modules coming.
Information
Sound: Index
Sound: Included AWM sounds
"AWM(Advanced Wame Memory)" is the name of Yamaha's PCM syntesizer sound sources. After SY77 released 1989, they say "AWM2". MOTIF-ES RACK has 175MB(16 bit linear counting) waveform memory compatible with MOTIF ES keyboards. Below I played the piano.
| Sound | Comment |
| --- | --- |
| Ap:Piano01 | MOTIF-RACK ES's #1 piano is "Full Grand". I made a performance based on the sound. Cutted effects. The piano has wooden sound. I love this much. |
| Ap:FullGrand | One more recording of "Full Grand". I played a performance including the sound. Before, I tested some synths at music stores. MOTIF ES8 piano was the best for me. I had already owned the sound in my MOTIF-RACK ES. |
| Ap:DreamBlld | One of MOTIF-RACK ES's factory performances. From here to Pd:FatAnalog, also. This DreamBlld is a layer sound of acoustic pf, electric(FM) pf and strings. With sustain pedal, too much sustain makes the sound dirty. Ditticult to play. |
| Kb:LoveAffair | Electric pf and strings. It is near with Ap:DreamBlld. I may delete this. |
| Co:Dynasty | Orchestra sound. The sound character becomes dull as more sounds layered. |
| Pd:LenaH | Solina string ensemble image. I changed octave. |
| Pd:FatAnalog | I am not sure this is "analog". OK, I like it. |
| USR3:74 Pd:Silence | Soft, quiet, sweeping pad. I love. |
Sound: Added PLG150-AN sounds
I put two PLG150-AN plugin boards on my MOTIF-RACK ES. PLG150-AN is 5 voice polyphony synth. Two boards can output 10 voices. The photo below is MOTIF-RACK ES startup procedure. It loads plugin data to PLG150-AN from flash memory. You can "AN" icon at right, lower side. The load is time consuming.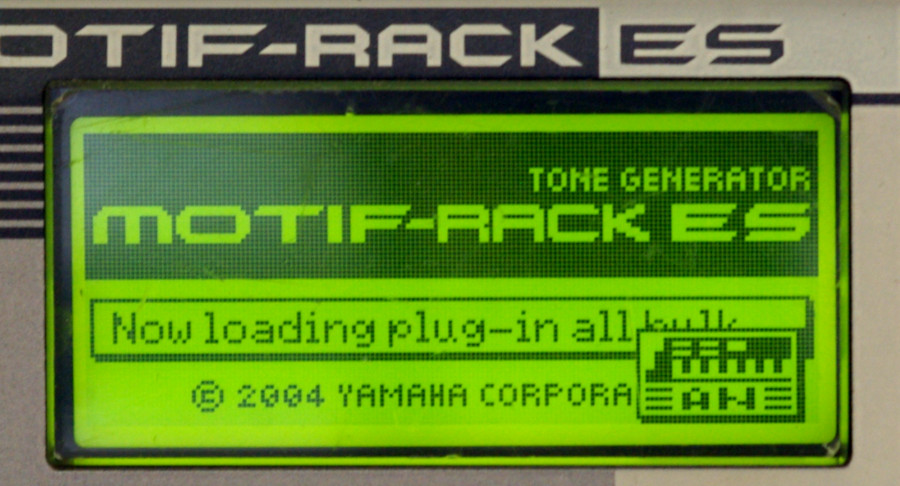 When you want to fully edit the PLG150-AN sound, "AN1xEdit" software is recommended.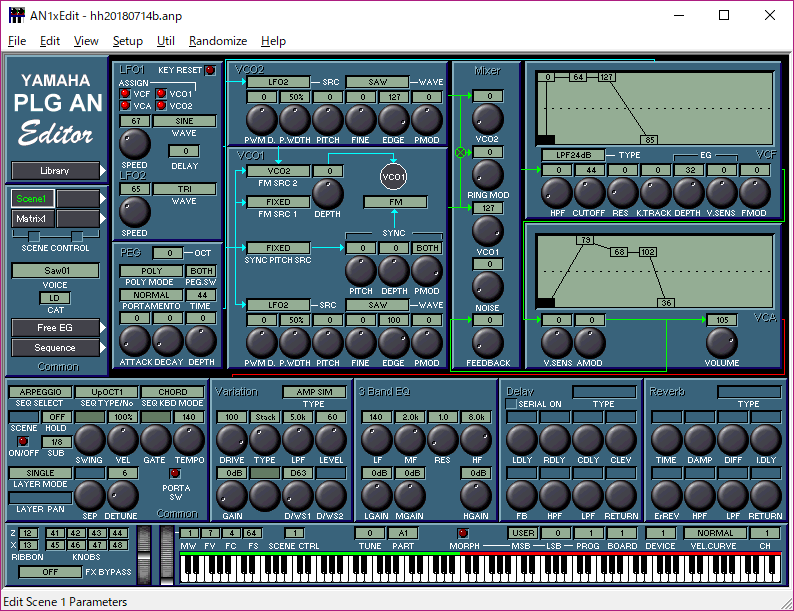 AN1xEdit version 1.1 has "PLG150AN Mode" menu item. It disables some knobs and buttons which is not valid with PLG150-AN.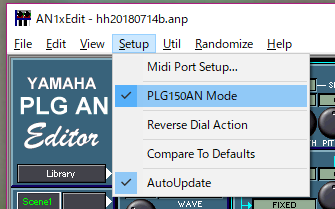 OK, listen some PLG150-AN sounds. The first two sounds were made with AN1xEdit from scratch. I saved them as user voices, and made performances with them. Others are based on PLG150-AN preset voices. Because I put aftertouch vibrato, I modified a little and saved as user voices. Then I made perfomances.
| Sound | Comment |
| --- | --- |
| Ld:ANSaw01 | Straigtforward saw lead. Pitch bending and vibrato are smooth. |
| Ld:ANPulse01 | Switched to pulse. |
| Ld:MaiseAT | Oh! Lyle Mays coming! "AT" means aftertouch vibrato added. |
| Br:FattyAT | Orthodox brass. Not bad. |
| Br:ToToHornAT | When I was a high school student, TOTO was very popular. David and Steve. |
| St:SoLinaAT | Hooray! AN sound! I love strings sound of PLG150-AN. Below I put too much strings. Forgive me. |
| St:MultiSawAT | Multisaw maybe mean many saws utilized. Roland's "SuperSaw", Access Virus's "HyperSaw" were famous. |
| Ld:SilentAT | I love. Good job. |
| Ld:ChickAT | A synth lead like Chick Corea's. It is like a trumpet a little. |
| Pd:SusyAT | Why "Susy"? I do not know. |
| Sc:P5SawAT | Moving filter makes joy. Some dullness. |
| Ld:JHammerAT | Jan Hammer was one of the Synth King. The sound was mono, I changed to poly. |
| Br:ANSftBrAT | Good booming. |
| St:AnalogAT | No special analog synth sound. Some effects may be needed. |
| St:ChoclateAT | I love chocolate. OK? |
| St:StringerAT | Faster attacks. Marcato play I tried. |
| St:LushAT | Lush strings. |
| St:BonnAT | Slow attack strings. I lost a tempo. |
| St:PwmStrngAT | Pulse width modulation, maybe. In most synth, PWM shaking is too much in lower keys. This sound is not. Some tricks? |
| St:AnaStrngAT | After recording, I felt so so. |
| St:StrngPadAT | Expensive old analog string ensemble machines. I own Yamaha SS30. Is it working now? |
Sound: Added PLG150-DX sounds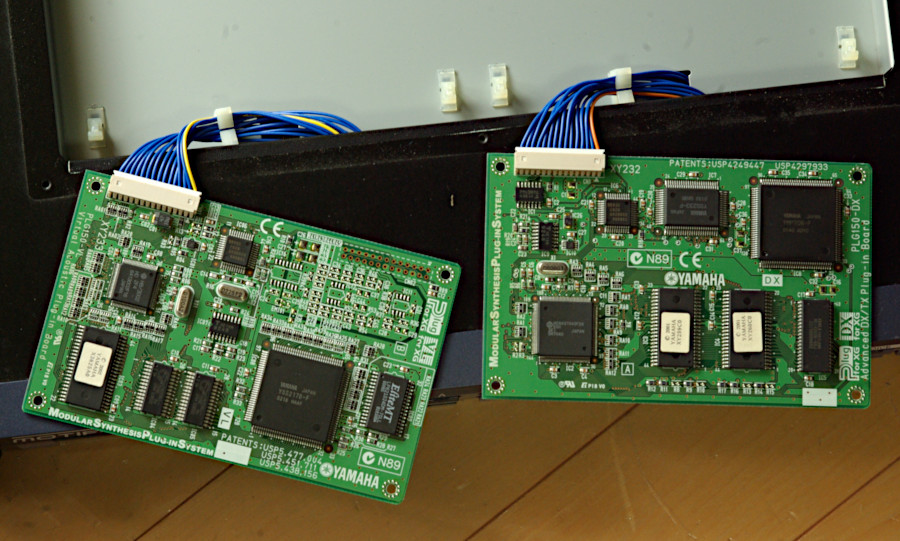 I have two MOTIF-RACK ES modules. One has PLG150-DX and PLG150-VL. In the photo below, the left board is PLG150-VL, the right board is PLG150-DX.
| Sound | Comment |
| --- | --- |
| 1 DX E.Piano | DX electric piano. Not wonderful alone. When mixed with acoustic piano sounds, it may shine. |
| 13 Bogi Bass | Before I thought PLG150-DX preset sound should be edited much for aftertouch vibrato. No. With MOTIF-RACK ES, very easy. Nice. |
| Kb:DXEPiano | "PLG PRE1" bank #1 is "Kb:DX E.Piano". I push it into a performance. I did not copy effect parameters. You may hear some noise. I guess the reason is that PLG150-DX is 12 bit inside. Original DX7 is noisy, too. |
| Kb:FullTine | "PLG PRE1" bank #2 "Kb:FullTine". I put it to a performance. I prefer "FullTine" in my MONTAGE. FullTine was made for DX7 II, not for original DX7. PLG150-DX is same as original DX7, I feel. |
| Kb:EPiano2 | I transfer some my old sounds in MidiQuest files to PLG150-DX. This "EPiano2" is one of them. It is similar to Kb:DXEPiano above. But some differences are there. |
| Ld:Silkroad (Performance) | One more my old DX7 program. I used this sound in poly mode. Today, I made mono voice with portamento, and put the voice to a performance. The performance was not mono, no potramento. Sigh. |
| Ld:Silkroad (Voice) | This is a voice. Mono with portamento. More delays. |
Sound: Added PLG150-VL sounds
A MOTIF-RACK ES with PLG150-VL sound.
| Sound | Comment |
| --- | --- |
| 1 Trumpet 1 | VL Trumpet is real in some means. Pitch bending has discontinuity. I bended up to C, fault, replayed the note. |
Sound: Added PLG150-AP sounds
A MOTIF-RACK ES with PLG150-AP sound.
| Sound | Comment |
| --- | --- |
| Ap:CF3Grand | PLG150-AP's #1 preset. I put it to a performance. It reminds me of CF sample in Yamaha A4000's CD-ROM. Decay is short. Sustain level is high. Much better than PLG150-PF acoustic pianos. |
---
Mail to Webmaster
Webmaster information
©Hideo Harada 2010-2021 updated on 2021/07/29 20:20:35