---

E-mu Proteus 2000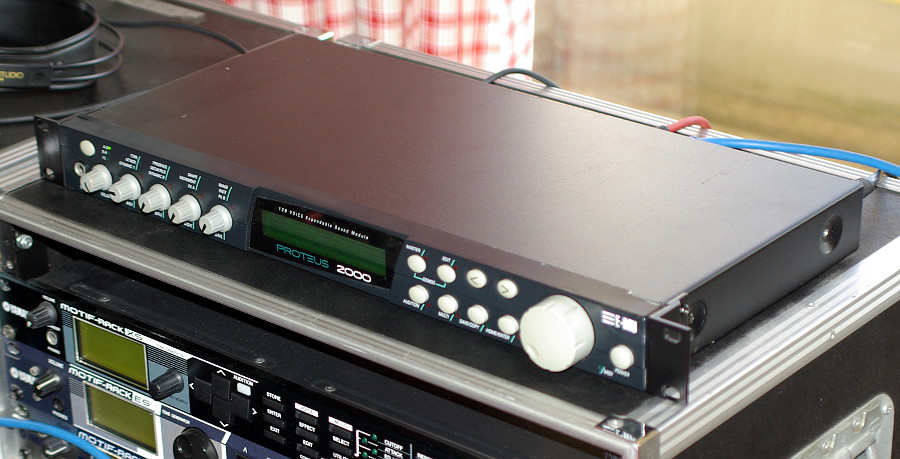 Proteus 2000 is a digital polyphonic synthesizer module released in 1998 by E-mu Systems. 128 voice polyphony, 2 sets of MIDI I/Os(total 32 channels), 6 analog outputs(4 sub-outputs can be used for insertion) and digital S/PDIF output are there. Gorgeous. At the left side of front panel, 5 knobs and 1 button to control 15 parameters instantaneously. The wave ROM is 32MB "Composer" includes 1024 preset programs. You can store your 512 programs. There are 4 ROM slots inside. If you put four 32MB ROMs(Holy Grail Piano and Protozoa are 16MB ROM), total ROM wave size is 128MB.
Because Proteus 2000 were produced in long period, some hardware variations exist. Seeing the photo below, LSI positions are different and one power supply unit is sheilded, another is not. Some Proteus 2000 were made in the USA, some in China.
Proteus 2000 has many brothers(sisters?). "Proteus 1000" is a synth with 64 voice polyphony, 1 set of MIDI I/O, 2 analog outputs and no digital S/PDIF output. Now the price of Proteus 2000 is reasonable, you do not have to choose Proteus 1000. Many products were made with choice one from two hardware variations, a new ROM (Virtuoso has 2 ROMs) and new color. I own four Proteus 2000s(including compatibles). They have 15 ROMs(14 different types, 2 Composer ROMs).
The user interface of Proteus 2000 is straight-forward and well done. But, you should mention the height is 1U. Small display and small numbers of buttons we have. "prodatum"(can be downloaded here is excellent editor software for Proteus 1000/2000. I recommend the editor if you want to make your own sounds. The screenshot below is when I set MIDI I/O port setting. "prodatum" shows what ROMs are in the Proteus 2000 connected.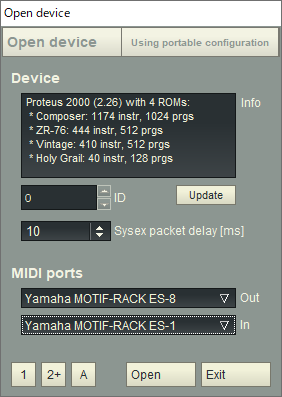 At the dialog above, after you click "Open", you will see the screen below. One program has maximum 4 voices.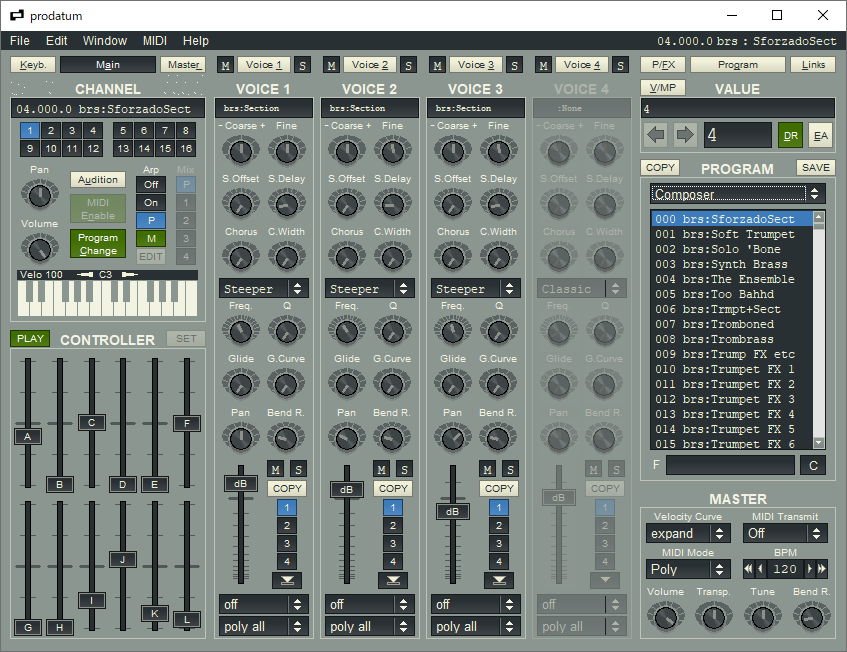 The selling point of Proteus 2000 is excellent wave ROMs made by sampling old shop E-mu Systems and musicians worldwide. You cannot get those sound from synths by other manufacturers. E-mu samplers and CD-ROMs are nice, too. However, it may be easy to search sound you want with Proteus 2000 ROMs. Digital Sound Factory is selling Proteus 2000 ROMs' waves as SoundFont formats. I think waves do not define all the sounds. If you like sound of Proteus 2000, you should purchase real Proteus 2000. In other hand, I do not recommend Proteus 2000 if you want to make music with a multi-timbral synth. Proteus 2000 has only two effectors, they are not send/return type. It is better to use Japanese multi-timbral synth which includes send/return effects and much insertion effects.
The digital output of Proteus 2000 is working with 44.1kHz sampling frequency. The synths equipped both analog and digital outputs are long-wearing. Because when analog is broken, you can use digital output. In most cases, digital output is more durable than analog output. But, one of my Proteus 2000s has bloken digital output.
Information
Sound
| Sound | Comment |
| --- | --- |
| DynamicGrand | Proteus 2000's acoustic piano. I can say Composer ROM's acoustic piano, too. Crisp, not humid, US west coast sound. Additional programming can change this sound much. Please try other piano programs after you get Proteus 2000. |
| And Voice | My true favorite. Excellent mixture of acoustic piano and human voice. At round midnight, I played this with headphones. I could not go to bed. |
---
Mail to Webmaster
Webmaster information
©Hideo Harada 2010-2021 updated on 2021/07/29 20:23:55